Terms and Conditions for 2 years for the price of 1 .UK family domains name registration
The Promotion
Register any new .UK family domain (includes .UK, .CO.UK, .ORG.UK & .ME.UK) for 2 years at the same price as 1 years During October 2019. In effect you get 1 year registration free.
The promotion only applies to new registrations from the .UK family of Top Level Domains (TLDs) as above. Renewal will be at the then prevailing normal price for renewals of these domain names. See store for a guide to the renewal price. The renewal price stated now may not be the same as the price when it comes to renewal as prices can change but we try to keep you informed of price changes.
New registrations of .UK family domains are subject to both our terms and conditions of sale and the Nominet terms and Conditions. Please ensure you have read both before buying your domain as you are bound by both on completion of purchase.
The Nominet terms and conditions can be found here: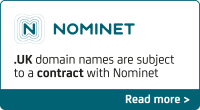 Exclusions
All other Top Level Domains (TLDs) are excluded from the promotion.
All transfers or renewals of .UK family domains are excluded from the promotional price.
All transfers and renewals of any other TLDs are excluded from the promotion.
Other conditions
Please note that we may withdraw this promotion at any time without explanation. The offer is otherwise valid from 1st October 2019 until 17:30 31st October 2019.