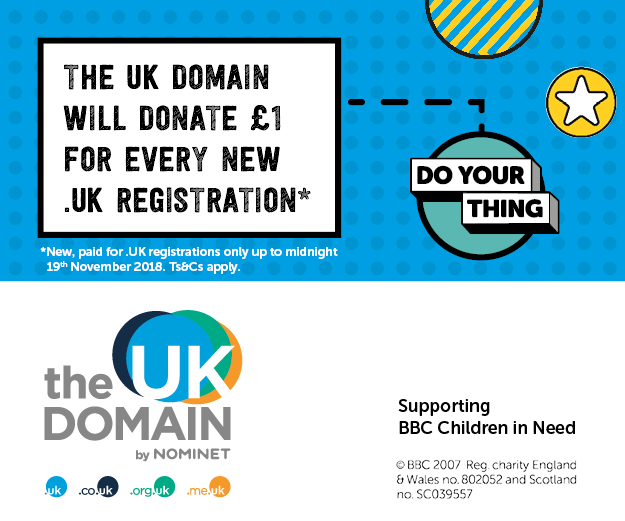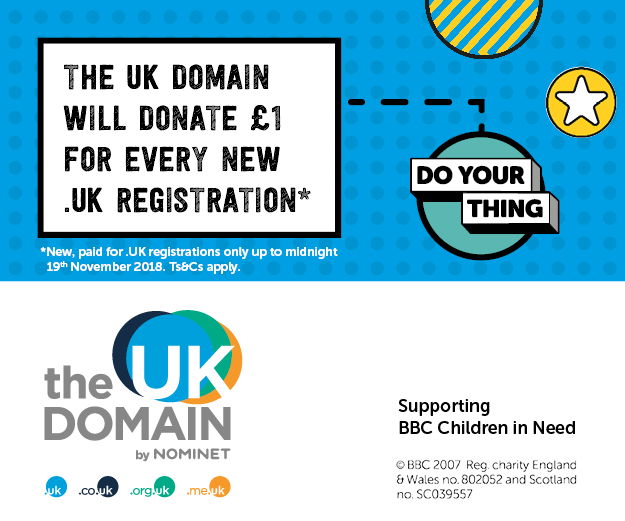 Nominet are the Domain Registry for the .UK domain name space and they are helping the BBC Children in Need appeal this year. From 8th October to the 19th November 2018 they will give £1 to Children in Need for every full price domain name that is bought in the .uk domain name space. We think that this is a great idea and in order to help them to raise as much money as possible we are getting behind them. We give you a FREE domain name with every hosting account but as we pay the full price for the domain that means that by purchasing one of our Feature Rich Hosting Accounts and choosing a .UK* domain name you will be helping Children in Need also.
*any new registration of a .co.uk, .uk, .org.uk and .me.uk will qualify as long as it is not already part of a Nominet promotion. Domains bought through CritchCorp Computers Ltd promotions will count unless it is part of Nominet Promotion. The only one scheduled to be affected is the RoR promotion starting 1st November 2018. These domains will not count towards the Children in Need donation. All others, including those that are free with other products will count.
If you were thinking about buying a new domain name for a project or new product or promotion then now is the time to buy the domain name in the .UK domain space and you can help Children in Need. Click here to get started.
Nominet are proud to be helping Children in Need, it is part of their mission to help individuals achieve more online. Their donations will fund projects that use digital technology to support vulnerable young people who can benefit the most from new advancements in tech and digital inclusion.
BBC Children in Need is the No. 1 children's charity in the UK. In 2017/18 it supported 2,600 projects across the UK, improving the lives of over 600,000 children per year. We are proud to be supporting them.
The main televised appeal show will be on the 16th November 2018 (in 2017 it had 7.1 million viewers)
To read more about Children in Need click here.
Nominet has pledged a minimum commitment of £200,000, so let's help them to raise this and more for this year's Children in Need